Tata Steel job cuts to top 1,000
18 January 2016

From the section

Business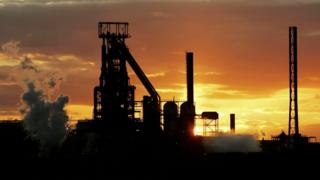 Tata Steel will cut 1,050 more UK jobs in what the industry is calling a "wake up call" for the government.
It comes on top of hundreds of cuts announced by Tata last year, which it blamed on plunging steel prices.
About 750 of the latest job losses are expected in Port Talbot to help save the Welsh site, the UK's biggest steelworks.
Another 300 jobs could be lost at steel mills in Llanwern, Trostre, Hartlepool and Corby, the BBC understands.
Tata would not comment on the plans, but an announcement is widely expected on Monday morning.
Gareth Stace, director of UK Steel, told the BBC: "If anything does happen with further job losses, it's a wake up call again to government.
"The work it's doing to help us is good but we need much further action taking place to tackle the imports, the flood of Chinese steel into the UK and the European economy.
"We need to see government and the European Commission tackling that head on and quickly."
Port Talbot, which currently employs 4,000 workers, is the biggest steel plant in Britain in terms of workforce and output, but is understood to be losing £1m a day.
'Difficult period'
The government said it was "meeting key steel industry asks" through cutting energy costs and taking action on imports and EU emissions regulations.
A Business Department spokesman said it was monitoring the Tata situation closely.
"The government continues to engage closely with Tata on how we can help during this difficult period for the sector," he added.
'Near the edge'
Alan Coombs, president of the Community union in Port Talbot, told the BBC the impact on the local community would be "devastating".
Workers at the Port Talbot plant are "obviously worried" about job losses, although they have known for several years that the situation was worsening, he said.
"It's been a slippery slope since 2008-09 but we are getting nearer to the edge all the time," he said.
Mr Coombs, a steel worker for 30 years who is involved in the talks with Tata, said the government should impose tariffs on Chinese steel and lower business rates for UK steelworks.
Thousands of steel industry jobs were lost in 2015 with cutbacks and the closure of plants in England and Scotland involving Tata and other companies.
Local politicians have called for urgent action from the UK government to prevent further job losses.
Stephen Kinnock, the MP for Aberavon, which includes Port Talbot, said job losses would be a "bitter blow" for the area and stressed support was needed for workers made redundant.
In October, the Indian firm announced nearly 1,200 roles were to be axed in Scunthorpe and Lanarkshire.