Labour leadership: Burnham team's anger over ballot helpline closure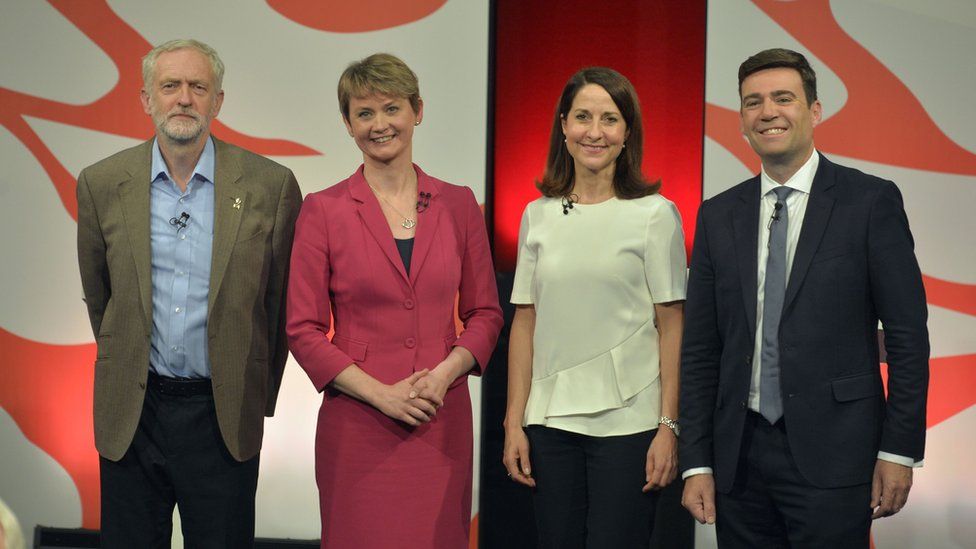 The manager of Labour leadership contender Andy Burnham's campaign has criticised the party for closing a helpline for people trying to vote in the contest.
Michael Dugher said this was "unbelievable" and said many people had not yet received their ballots.
Labour says ballots have been posted and emailed out correctly.
The party said the helpline had been replaced by a recorded message explaining how to vote.
It has advised supporters to check their inboxes for a final email reminder which contained the code they needed to vote.
It comes on the final full day of campaigning, as Mr Burnham, Jeremy Corbyn, Liz Kendall and Yvette Cooper chased last-minute votes.
Voting closes at 12:00 on Thursday, with the winner announced on Saturday.
Left-wing MP Jeremy Corbyn has gone from outsider to bookies' favourite.
Mr Dugher, the shadow transport secretary, made his complaint about the helpline in a tweet.
'Petty politics'
Earlier the four candidates, who have been in a series of debates since they first clashed in a hustings on June 17, used Daily Mirror articles to make their final pitches to voters.
Mr Corbyn said he had refused to make personal attacks during the campaign, adding: "Politics should be debated seriously. People are turned off by petty, personalised Westminster politics."
He was attacked by Ms Cooper, who said: "I won't do what Jeremy has done and make false promises to print money we don't have."
Mr Burnham said that under his leadership, Labour would no longer "look like a pale imitation of the Tories", while Ms Kendall said the party had to "learn the painful lessons of the last five years".
Some shadow ministers – including shadow chancellor Chris Leslie – have already said they would not serve in a Corbyn-led Labour Party. The Guardian reported that up to eight members of the shadow cabinet could say they would quit the front bench if he wins.
Acting leader Harriet Harman told the BBC's Daily Politics: "It was quite surprising to discover that I am possibly not old enough or posh enough to be the frontrunner of this current leadership contest."
This has been seen as a veiled attack on Mr Corbyn, who is widely regarded as the frontrunner and is the only candidate older than Ms Harman.
She was speaking after appearing in her final prime minister's questions before stepping down from the front bench after 28 years.
Across the despatch box, Prime Minister David Cameron paid tribute, said she had "served her constituents, her party and this House with distinction from the front bench".
---
Labour leadership contest: the final days
Candidates: Andy Burnham, Yvette Cooper, Jeremy Corbyn, Liz Kendall
Voting deadline: ballot papers must be returned by Thursday, 10 September; voting can be by post or online
When will the winner be announced? At a special conference on Saturday 12 September
Conference timings: It begins at 11:00 BST, with the result of Labour's deputy leadership election announced first. At 11:30, the winner of the leadership contest will be unveiled; they will then make a short acceptance speech. In both cases, round-by-round details of voting will be made available to show how each winner emerged
How does the voting system work? Voters rank candidates in order of preference. If no candidate wins more than 50% of the votes in the first round, the person in last place drops out and their supporters' second preference votes are reallocated to the other candidates. This process continues until the candidate with the most accumulated votes wins
2016 London Mayoral elections: On Friday, 11 September, Labour will announce who has won the contest to be its candidate for next London mayoral election
---
As well as complaints from people claiming they have not received voting papers, there has been criticism of the process by which people can take part in the vote, with claims of infiltration by non-Labour supporters. People are able to pay £3 to become a registered supporter, entitling them to a vote in the contest.
There has been a huge increase in the party's electorate, with more than 160,000 applications to vote received in the final 24 hours of registrations.